You can see all of the Golden Software products that you have purchased or registered by viewing the My Products tab in My Account.
Your software products are listed in a condensed view.  You can see the details for any product by clicking on that row.
Here is an example view with a description of the information listed below.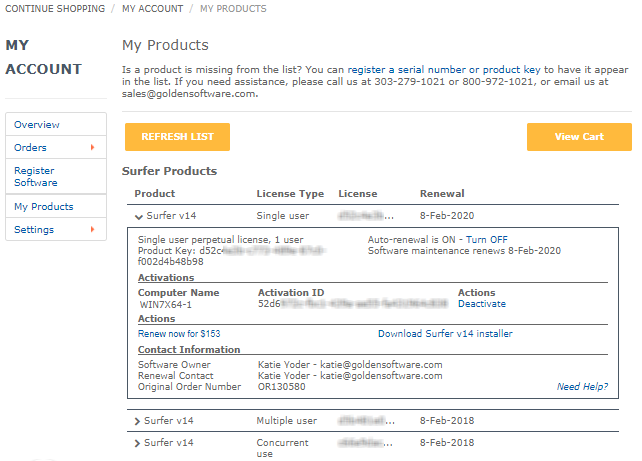 Product information
We list the type of license, the duration of the software license, and the number of users or seats.


Renewal information
If your software has a maintenance subscription or your software license is a subscription, then you can see the next renewal date. 

If your subscription is active (not yet expired), you have the option to turn on Auto-renewal.  When Auto-renewal is ON, your maintenance or software subscription will be renewed automatically using the credit/debit card that

you

have stored in My Account.  When you turn ON auto-renewal, you will become the Renewal Contact for this product.


Activations
When you install a software that uses a product key, you need to activate your software before the end of the trial period.  Any active activations will be listed.  You can Deactivate an activation, but be aware that the software on that PC will no longer run unless you are still in the trial period.  Deactivating from My Products is typically done if your PC crashes and/or you cannot deactivate from the PC.


Actions
The "Renew now" link allows you to extend your subscription or maintenance.  The link will add the renewal into your Cart and you can complete your online purchase.  When purchasing a maintenance renewal, it will extend your maintenance by one year from it's current renewal date.  For software subscriptions that are already expired, the renewal will restart your subscription from today.

The "Download" link allows you to directly download the product installer.  You will only be allowed to download the latest version of the product that your license allows.


Contact Information
Software Owner - the person that has purchased the software.  However, if purchased through a reseller, then we list the first person to have registered that Product Key or Serial Number.

Renewal Contact - the person that will be notified by email 30 days before the renewal date.  If auto-renewal is ON, then the renewal contact's credit/debit card will be charged for the renewal.

Original Order Number - lists the order number for the original purchase of the software.  If you were the purchaser, then you can see your order information by selecting the Orders tab on the left.