Concurrent-use license owners must run Sentinel RMS License Manager version 9.7 or higher for new releases of Surfer and/or Grapher to be able to communicate and use a seat from the license server. Failure to update the Sentinel RMS License Manager can result in errors or stop Surfer or Grapher from running. Please note, this article does not pertain to single-user licenses.
We highly recommend that you update the Sentinel RMS License Manager before attempting to install and run any versions of Surfer, Grapher and the License Administrator released after January 2022. This will allow the smoothest transition for you and your users. These versions include
Surfer v24 and newer
Grapher v20 and newer
License Administrator v3.0 and newer
To determine the version of your license manager:
Sign in to your license server.
Click Windows start | Settings | Apps (or) Programs
Locate the application Sentinel RMS License Manager X.X.X (the X.X.X is the installed version of license manager).
If the version is less than 9.7.X, follow the steps below to install version 9.7.2. or higher (note you must uninstall the previous version before installing the new version).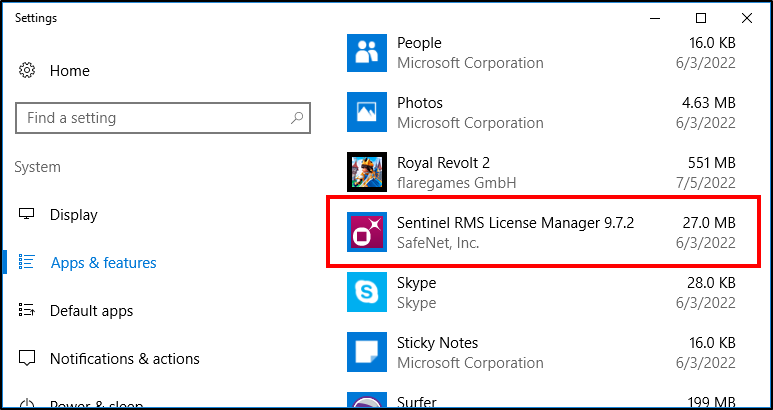 How to update the Sentinel RMS License Manager:
Click Windows start | Settings | Apps (or) Programs.
Select the application Sentinel RMS License Manager X.X.X (old version)
Click Uninstall and wait for the license manager to be removed from the list.
Save the ZIP file to the license server.
Extract the ZIP file.
Run the installer setup.exe from the downloaded and extracted ZIP file.
Follow the default install steps.
Additional details:
These steps to update Sentinel RMS can be performed even when users have license seats in use.
After the new license manager is installed, the Golden Software applications will automatically reconnect and get a license seat.
If your Sentinel license manager is serving licenses for applications other than Golden Software's Surfer, Grapher and Strater, you may want to check with the other application's vendor before performing this license manager update.
Errors you might encounter should you continue running a version of Sentinel RMS previous to 9.7.2:
If you do not update the license manager, users will see the following warnings. Users may not be able to run the app.
Shown when opening Surfer and Grapher: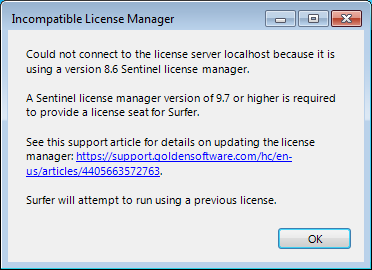 Could not connect to the license server localhost because it is
using a version 8.6 Sentinel License Manager.
Shown when opening the License Administrator app: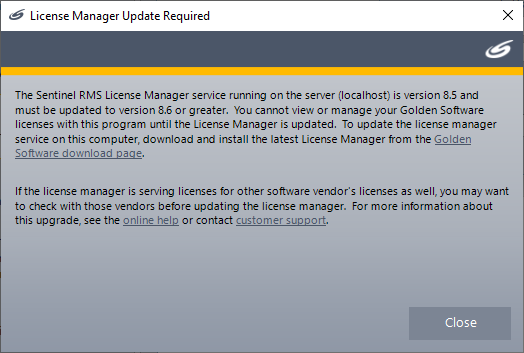 The Sentinel RMS License Manager service running on the server (localhost) is version 8.5 and must be updated to version 9.7 or greater
When the License Administrator is already running: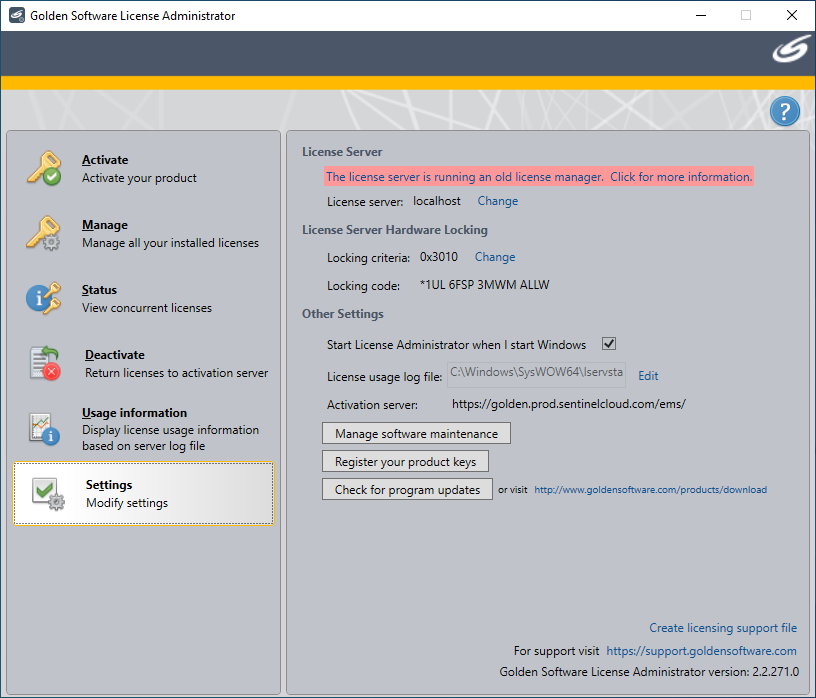 The license server is running an old license manager.
Updated March 17, 2023