Create a graph on a custom page size in Grapher
Define a custom page size for your graph regardless of the page sizes available to your printer. Complete the steps below to define a custom page size in Grapher.
Click File | Page Setup.
In the Page Setup dialog, click in the Paper Size field and select Custom.
Adjust the Width, Height, and Margins as desired.
Click OK.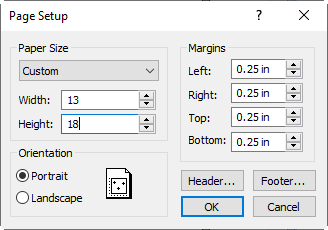 Grapher Page Setup with Custom Paper Size
Once the page size has been adjusted, you can adjust the size of the graph to fit the page by following the instructions in the article How Can I Fit The Graph To The Page In Grapher?.
Updated March 2023