Grapher v15 Preview is now available!
Golden Software is excited to announce the release of Grapher v15 Preview!
Grapher is a 2D and 3D graphing program. Grapher accurately and efficiently converts your data into one of more than 80 graph types to present your data in exactly the format that you desire. Virtually all aspects of your graph can be edited, to provide the exact look to your graph that you need. Grapher's user interface is easier to use than ever, making it quick and easy to create professional, publication-quality graphs. Grapher v15 Preview includes the following new and improved features:
Draw more attention to important regions of your graphs with these new break axis features: draw line plot to break axis limits, add a symbol or line before and after the break axis limits on the plot itself, and choose from four different options for the break axis symbol.
Gain more insights into your data by modelling down-hole data with X=F(Y) fit curves or modelling individual classes or all classes in class scatter plots.
Create product plots, subtraction plots, average plots, and any other function-type plot you desire with the new-and-improved Math Plot.
Convey more information than ever before by choosing alternative statistics on a box-whisker plot for the center line, box edges, and whiskers.
Accentuate differences between two plots by choosing different fill settings for portions above the intersection of the plots versus portions below the intersection of the plots.
Create more informative graphics by labeling some or all contours for the various contour maps in Grapher.
Define one transform equation that references specific cells, and copy it down through all of the rest of your data.
Color scatter plot symbols based on a data value mapped to a colormap gradient, or based on an RGB color column
Find pie chart slice properties, legend entry properties, and shared contour map levels properties more easily with their move to the Property Manager.
..and more!
Grapher is available in single-user ($489 US per license) and concurrent ($979 US per seat) licensing. Since being a part of the Grapher Preview track is a perk of maintenance, you will need to up grade old licenses to Grapher v14 ($169 US) or renew your Grapher maintenance ($88 US for single-user or $176 US per seat for concurrent) in order to download Grapher v15 Preview from My Account. Place your order today! To explore Grapher Preview's full set of features for yourself, please see: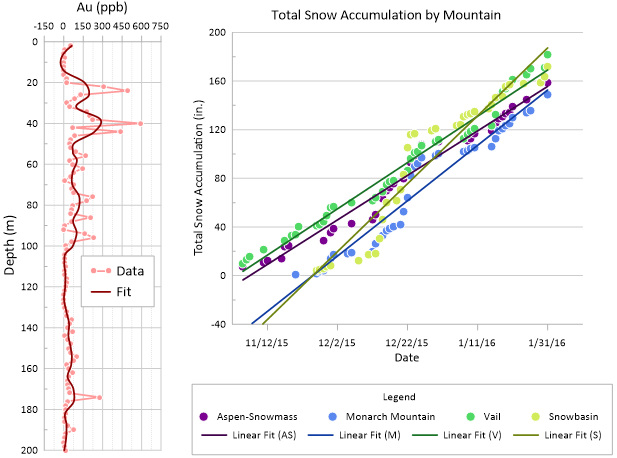 Add X=F(Y) fit curves to down-hole data and add fit curves to individual classes in a class scatter plot.
Please sign in to leave a comment.