Make specific colors in an image or Base(raster) layer transparent in Surfer
Surfer now allows you to make specific colors within your Image, Base(raster) layer, or image within a Base(vector) layer transparent. To do so:
In the Contents window click on the Image, Base(raster), or image within a Base(vector) layer to select it.
In the Properties window, click the General tab.
Check the Set transparent color box in the Transparency section.
Choose the color that you wish to be transparent from the preset options, or choose your own custom color. If you wish to select a color from the image, choose Custom colors and use the eyedropper tool on the actual image.
Use the Tolerance slider to specify how similar pixels must be to your selected color to be set as transparent. Higher Tolerance means more of your image will be transparent.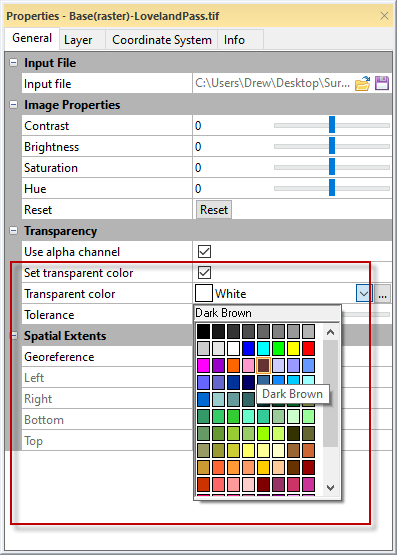 Transparency settings will be honored during export if exporting to an image file with an alpha channel, such as TIFF or PNG.
Updated December 8, 2021