Surfer's cokriging algorithm allows for input from one primary and one secondary correlated dataset only. At any point in the Grid Data dialog you can:
Click Finish to commence gridding with the default parameters
Click Skip to End to skip to the Output page
Click Back to return to the previous screen.
Click the X in the top right corner of the Grid Data dialog to cancel out of gridding altogether.
To grid your data using cokriging, please follow the steps below.
Open the Grid Data wizard:
Click Home | Grid Data | Grid Data.
In the Grid Data dialog, choose Cokriging as the gridding method in the left-hand panel
In the right-hand panel, choose the primary data file to be gridded as Dataset 1, and the correlated secondary data file as Dataset 2.
Choose the appropriate data file columns for variables X, Y and Z for both input files, and click Next.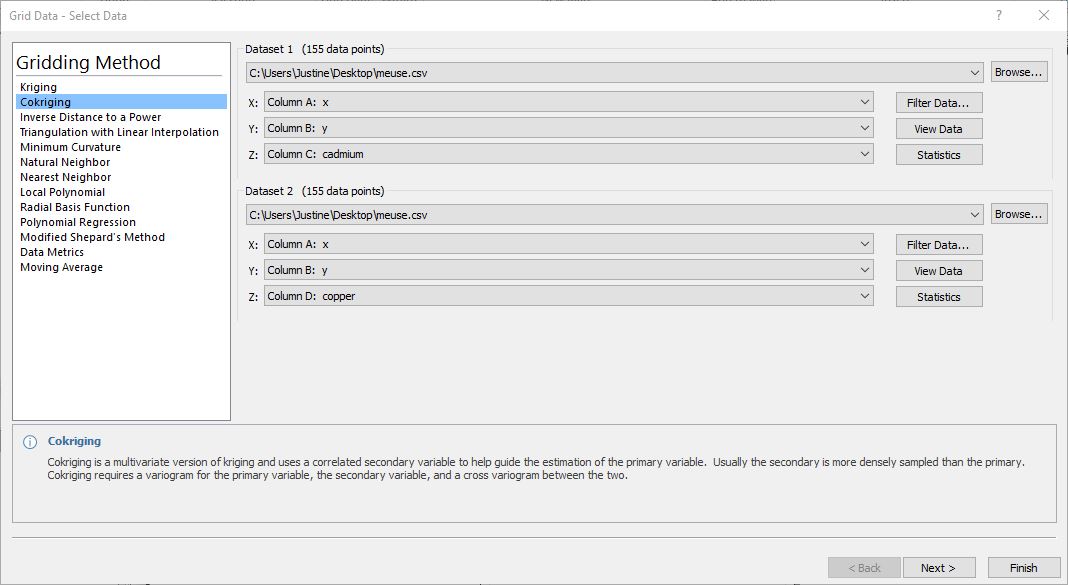 The Select Data page in the Grid Data wizard
The Variogram modelling page opens. Cokriging requires a modelled variogram for both the primary variable and the secondary variable. A cross-variogram is also required between the two variables. For more in-depth review of variograms and their components, please refer to our Online Help.

The Current variogram field allows you to switch between the self variogram for the primary dataset "Var1-Var1", the self variogram for the secondary dataset "Var2-Var2", or the cross variogram between the primary and secondary "Var1-Var2"
The variogram chart displays the estimate line, the model line, and the variance line. The display options for the chart can be controlled in the Plotsection of the right-hand panel.
The variogram surface map shows the values of the variogram function for all directions and distances. Each cell of the surface map is equivalent to the lag size. The color of square indicates the estimate value. Hovering your mouse over the map will give you the Estimate and Weight values for that cell.
When you have finished modelling the "Var1-Var1", "Var2-Var2", and "Var1-Var2" variograms, click Next.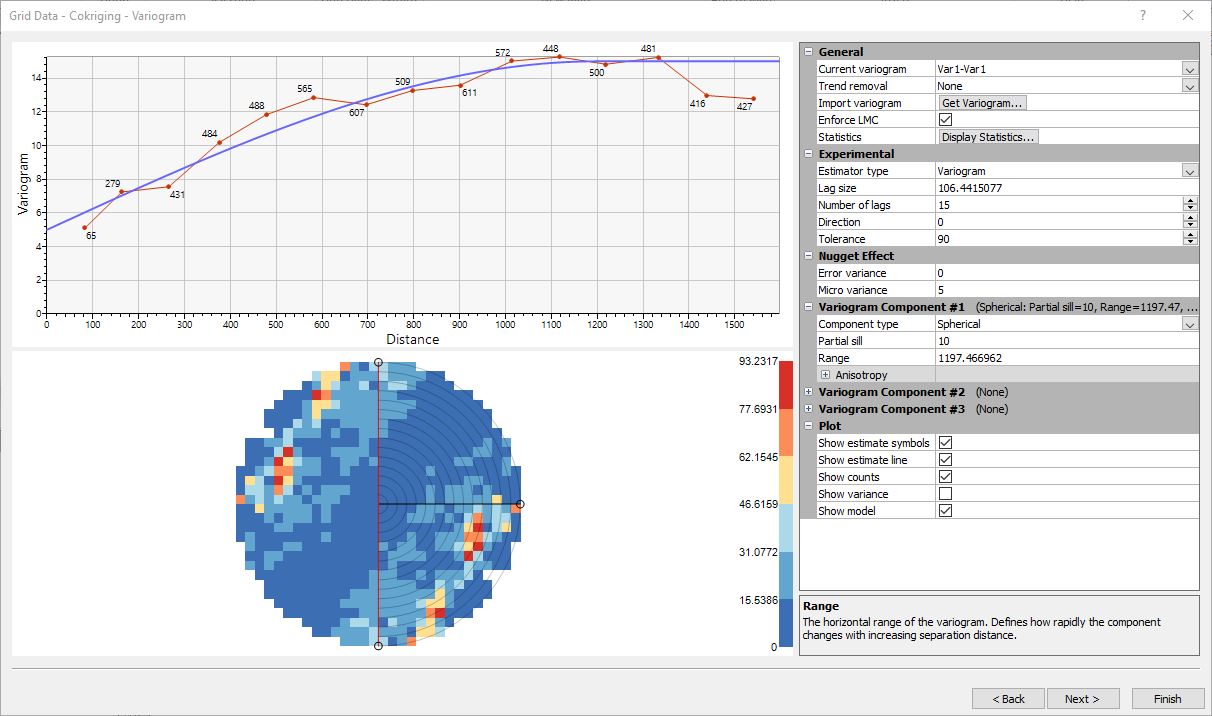 The Variogram modelling page in the Grid Data wizard
The Options page opens:

Choose your Cokriging type and Estimation method
Input an appropriate Search Neighborhood, or specify None (use all data).
Add a Breaklines file, if desired. Breaklines only apply to the primary dataset.
Click Next when finished.

The Cross Validation page opens. By default, 100 data points are randomly selected for cross validation.

Click Report to generate the Cross Validation Report, or click Save… to save the cross validation results to a data file.
Click Next when finished.

The Output page opens:

Leave the default output grid geometry, type a new geometry, or choose to Copy geometry from an existing grid.
Choose your preferred Z limits or Z Transform, if desired.
Type an Output Grid filename and location.
Click Finish to begin gridding.

Create a grid-based map (contour, color relief, 3D surface) by clicking the Home | New Map | <Map Type> command.
Updated November 2021