Grapher allows you to create contour maps from data files and grid files. Once a contour map is created, the levels and contour interval are controlled in the Property Manager. To change the contour interval, the minimum contour value, and the maximum contour value, complete the steps below.
Select the contour map in the Object Manager by clicking on it.
In the Property Manager, click on the Levels tab. 
In the Contour Intervals section, change the Minimum, Maximum, and/or Interval values.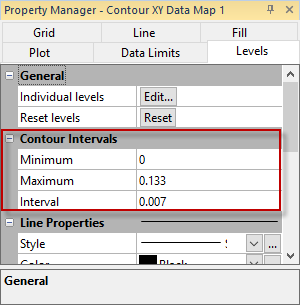 Created July 17, 2019