Color scatter plot symbols based on numeric data values in Grapher
Beginning with Grapher 15, it is possible to apply a colormap or gradient to symbol fill color based on a numeric data column. Complete the steps below to apply a gradient fill color to your scatter plot symbols.
Click the scatter plot in the Object Manager to select it.
Click the Symbol tab in the Property Manager.
In the Plot Symbol Properties | Fill section, click in the Color column field and select your desired data column/row. This is the column/row containing the data values that the gradient fill will be based on.
Select the desired predefined color gradient from the Colormap list, or click the Custom colormap button () to define your own.
If desired, check the box next to Show color scale to add a color scale defining what values correspond with what colors.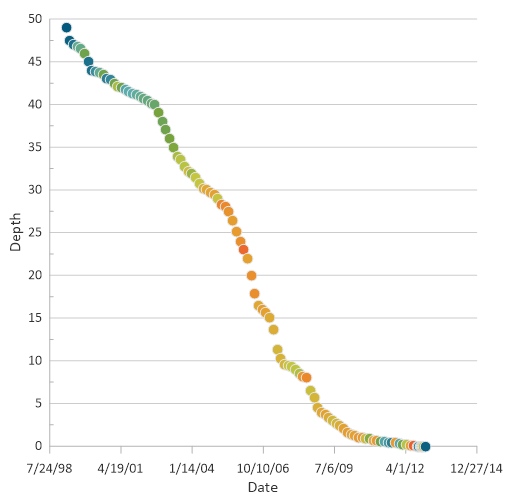 Grapher Scatter Plot with Gradient Symbol Fill Color
Updated March 13, 2020