To create a graph with a single Y axis, a single X axis, and multiple plots, you can add additional plots to the graph. To create a graph with 1 horizontal X axis and 1 vertical Y axis, follow these steps:
Creating the First Plot and Axes:
Create the appropriate first graph. For instance, if the first graph should be a bar chart, click the Home | New Graph | Bar | Vertical Bar Chart command ().
Select the data file and click Open. For this example, I selected the bar chart orientations.dat file located in the Grapher samples directory. The first plot and the axes are created.
Make any changes to the Bar Chart 1, Y Axis 1, or X Axis 1, as desired. For instance, I have changed the X axis limits and the color and width of the bar chart in this example.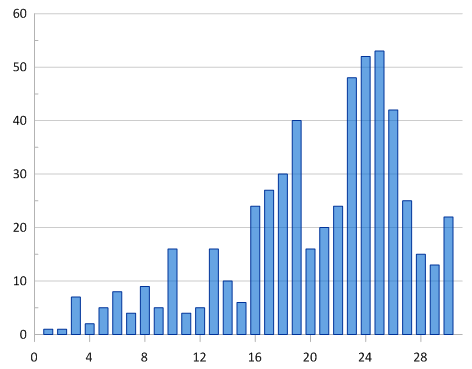 The original graph contains 1 X axis, 1 Y axis, and 1 plot.
Adding a New Plot:
Click anywhere on the graph to select it.
Click the Home| Add to Graph | Plot command ().
In the Select Plot Type dialog, click your desired plot type and then click OK. For instance, you may select a Line Plot.
In the Choose Axes dialog, be sure to select X Axis 1 and Y Axis 1 and click OK.
Select the data file and click Open. The new plot is added to the original X axis and Y axis.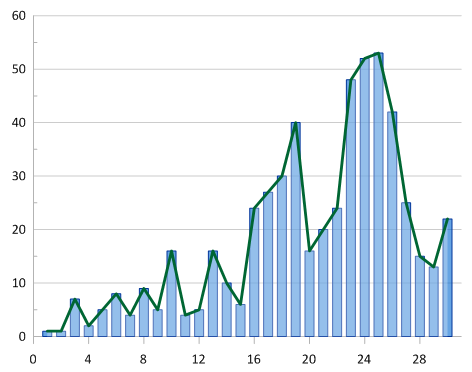 A graph is created with 1 Y axis and 1 X axis and multiple plots. Both the line plot and bar chart use the same axes.
If you would like to create a graph where the X axis is shared and Y axes are separate, see the article How can I create a stacked graph with multiple Y axes in Grapher?
Updated August 2, 2019