To export only a small portion of the plot, you can either change the map limits or export the current view.
Method 1: Changing the map limits
You could change the map limits to only show the area you want, and then export. To do this:
Select Map in the Contents window.
In the Properties window, click the Limits tab, and specify the x and y minimum and maximum coordinates of the area of interest.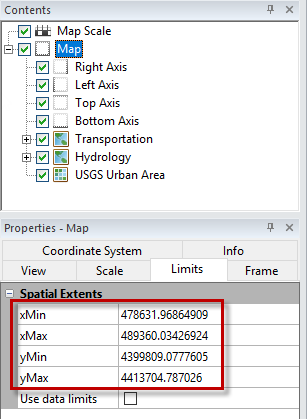 Click the Scale tab and specify the size of the map you want.
Click File | Export to export the subset area of your map.
Method 2: Export current view only.
Zoom into the area you want, then choose to export only that view. To do this:
Zoom in so the plot window shows just what you want to export.
Click File | Export.
At the bottom of the Export dialog, check the box next to Current view only.
Give your file a name and a type then click Save.
Set the desired export options and click OK to create the export file.
Updated October 4, 2018